Piaget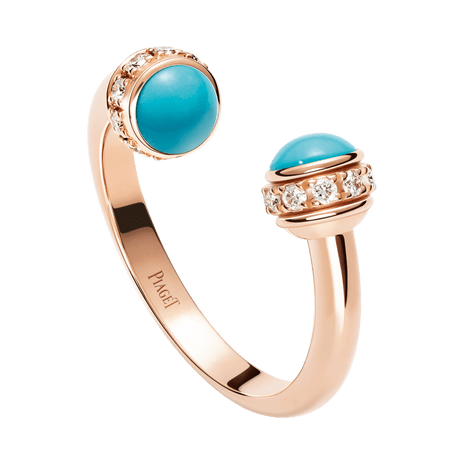 Novelty

Possession open ring in 18K rose gold set with 20 brilliant-cut diamonds (approx. 0.21 ct) and 2 turquoise cabochons.
Woman Ring G34P7D00
From

2 920

€

2 830

€

2 900

€

2 920

€

22 500

DKK

2 990

€

2 950

€

29 400

SEK

2 870

€

£

2 540

2 980

€

2 900

€

2 920

€
VAT included
Possession open ring

Possession rose gold diamond open ring with turquoise. Inspired by the captivating charm of the Possession open bangle, a rose gold and ornamental stone ring mirrors the bracelet's design pairing turning diamond bands with colourful stones. The playful open ring features two rotating bands paved with diamonds and adorned with a bright turquoise at each end. Elegantly wrapped around a woman's finger, the turning bands of Possession become a dynamic and empowering ally.

Rose gold, turquoise, diamond open ring

Information based on size 54

Type of jewellery:

Ring

Metal:

Rose gold

Metal weight (gr):

4.75

Precious stones:

Diamond

Semi-precious stones:

Stabilised turquoise

Available sizes (metric):

48 - 56

Band width (mm):

2.5

*Piaget luxury watches and jewellery are individually produced and thus the weight and carats of each product can vary from the displayed data.