YOUR VINTAGE PIECE
Only a few highly qualified watchmakers in our manufacture in Switzerland are able to carry out the delicate responsibility of restoring or tracing the history of a vintage timepiece that you hold particularly dear. They work meticulously and will always look for a personalised solution to ensure that your creation recovers its original condition for long-term durability.
RESTORING YOUR WATCH
Whether an extremely rare vintage or a more contemporary creation, we treat them equally with the utmost respect. After all, we are restoring not just a watch, but a story full of memorable moments.
Before the restoration begins, you will receive a personalised diagnosis together with a detailed cost estimate, taking into consideration all your requests. The restoration work itself is performed by master watchmakers at the Piaget workshop in Switzerland, who will:
Disassemble and reassemble the watch and its movement while strictly respecting the traditions of Swiss watchmaking expertise,
restore faulty parts to their original condition,
replace a part, or even manufacture it if the component can no longer be found.
If necessary, your creation will be sent to our Manufacture in Switzerland. Our specialists are able to repair any Piaget movement designed over the past 140 years.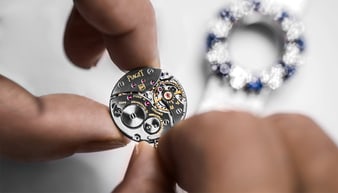 INSURANCE CERTIFICATE
If you own a Piaget watch, our Heritage Department can provide you with a Certificate for Insurance Purposes.
This document will indicate:
Its current catalogue price, if the watch is still on sale,
if the watch is no longer on sale, its price in Swiss francs on the occasion of the last sale by our Manufacture.
In order to have this document issued, it is not necessary for your watch to be examined by our experts in La Côte-aux-Fées (Switzerland).
All that is required is to transmit the numbers engraved on the back of your watch to a Piaget boutique or to one of our authorised retailers. You may also contact our Contact Centre, who will notify you of the cost and the procedure for obtaining a Certificate for Insurance Purposes.
This document may not be interpreted as a purchase or replacement offer and does not certify the authenticity of the product in any way. The sole purpose of this document is to provide, for insurance purposes, the historical catalogue price, representing the recommended retail price (excluding taxes) in Swiss francs of a given model, without prejudice. The characteristics mentioned here above represent a generic description of the model as offered for sale by Piaget.
To obtain an estimate of the value of a timepiece on the collectors' watch market, we advise you to contact a specialist auction house.
ADVICE FOR MAINTAINING YOUR WATCH